UKWIAŁ Mine Countermeasure
Remotely Operated Underwater Vehicle System

The UKWIAŁ is a specialized mine countermeasure Remotely Operated Vehicle System.
Principally system is utilized to locate, identify and dispose bottom and anchored sea mines. To initiate a mine explosives, charges of different weight and design can be used. These are selected by ships command according to local environmental and tactical condi-tions. Disposal charge compatibility of the system is indicated below.
The UKWIAŁ system uses a ROV of typical low cost design, supplied and controlled by an umbilical cable. It can be used for majority of search, observation and manipulation tasks. Delivery and location of mine disposal charges are its main applications. It is able to deliver charges up to 400m from mine hunting ship depending on water depth and sea current. Marking floats can be delivered instead of explosive charges. Open frame design of the vehicle and open control system architecture offers easy access to all components for maintenance, repair and modifications.

The UKWIAŁ vehicle is controlled by a pilot using 2 TV images and status information, overlayed on one of the images. These are supplemented by sonar image and navigation situation screens. All the images are displayed on dedicated 12" TFT LCD screens. Vehicle movements are controlled by means of two displacement type joystickcs. System commands are inserted using a modified PC compatible keyboard with IP 66 sealed membrane keys. Pilot work is aided by several auto piloting functions such as autoheading, autodepth and pitch stabilisation. Diagnostic functions are built in into system software.
All data and TV signals, between ROV and deck control room, are transmitted using fibre optic technology, giving high quality and high speed communication links that are immune to electromagnetic interference. Four multi-mode fibres are used for easy assembly and maintenance.

UKWIAŁ with 10 kg charge

The UKWIAŁ system can be delivered with an integrated training simulator, built into the Pilot Console. Basic simulator is able to generate simulated image of one the imaging devices. Simulated source can be selected by operator during a lesson. Simulated images of additional devices (up to 4) can be added for comprehensive training. Several lessons are available to train personnel of different skill levels. Complete trainer console, identical to real Pilot Console, can be separately supplied for training purposes.
System components

The Ukwiał ROV system is composed of the following components:

1. Remotely Operated Vehicle
2. Pilot Control Console
3. Power Supply Unit
4. Umbilical Cable
5. Umbilical Cable Winch
6. Tools and deck equipment
7. Spare parts set
6. System container (optional)

UKWIAŁ with 50 kg charge
Operating depth:


5 - 200m

Horizontal range
400m

Dimensions

Masses

Length:
1,500m
Vehicle alone
175kg
Beam:
0,720m
With 50kg charge and compensating float
230kg
Height:
0,765m
Cameras:

TV1 Navigation Colour and identification camera:
460lines resolution, 4,5 Lux sensitivity,
90 deg. diagonal zoomed lens, auto/manual focus
TV2, Manipulator arm camera:
B&W, 320 lines resolution, 0,02 Lux sensitivity, 110deg diagonal, fixed lens

Illumination

2, incandescent lamps, 150W variable output

Imaging sonar:
Mechanical scanning sonar, 625kHz, 150m range
Navigation:

Echosounder, 200kHz, 50m range
Electronic compass, 1 deg. accuracy
Electrolytic tilt meter, ±40 deg.
Transponder, 40W output power, 17 and 19kHz receive frequency, 23 - 30kHz transmit frequency
2, Leak detectors (vacuum sensor)
2, Water ingress detectors
Pilot Control Console
Pilot Control Console can be delivered as separate functional blocks. Functional blocks are delivered 19inch rack units mounted in transport cases. Integrated Console is also built of several 510m wide modules and can be disassembled to allow transfer through 600mm door openings.
The Console computer system is composed using industrial PC technology. The following four separate PC compatible computers are utilized for dedicated functions: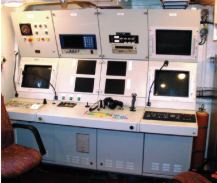 1. System and vehicle control computer
2. Navigation computer
3. Scanning sonar computer
4. Training simulator computer (1 video screen)
5. (optional) Sonar image simulator, for training purposes
6. (optional) second video screen simulator, for training purposes
The computers are networked using Ethernet 10/100MHz technology.
The Console also contains:

UPS power supply
Video overlay module
Video tape recorder (1 or 2)
Video source switch module (TV1, TV2 and up to two deck cameras can be selected)
Trackpoint II navigation system command module
Sonar control panel
Separate plastic fibre communication module for vehicle Power Supply Unit and Umbilical Winch data collection.
Video overlay information:
Heading, digital/graphics
Depth, digital/graphics
Altitude, digital/graphics
Roll and pitch digital
Umbilical twist, digital
Date and time, digital
Charge management equipment status
Other required system data
Controls: 2, 2 axis joysticks to control vehicle movements,
1, 102 keyboard to control digital functions
Other types of joysticks, up to 6 axes and buttons can be supplied to a customer preferences
Portable controller is a part of operator's console. It is used by deck personnel to control UKWIAŁ ROV while floating at the surface prior and after a dive. The remote controller contains a battery powered radio transmitter sending signals read by microprocessor from two joysticks and buttons. Components are enclosed in a sealed, plastic box.
Console dimensions:
Length/ Width/ Height: 1100mm/1765mm/1150mm
Mass: 250kg
Power requirements: 220 VAC/50Hz, single phase, 2 kW
Power Supply Unit (PSU)
Power Supply Unit supplies power to the UKWIAŁ ROV. It contains insulation /step up, single phase transformer, insulation monitor and protection devices. The Unit increases frequency and voltage supplied to ROV. This is provided to reduce current in Umbilical Cable and weight of step down transformer. High, non standardized frequency (more than 500Hz) reduce magnetic signatures to mislead intelligent mine fuses. Insulation Monitor tracks variations of ROV supply circuit insulation (umbilical and transformers).
Operating parameters: Voltage, current and insulation resistance, are displayed on a screen of navigation computer.
Input: 380 VAC/50Hz, three phase, 7 kVA peak
Output: 800V, 600Hz single phase 6kVA for ROV
Automatic Fuses: Main power 16A
Dimensions:
Length/ Width/ Height: 600mm/600mm/250mm
Mass: 50kg
Umbilical cable
The 500m umbilical cable connects surface controls and power supply to underwater vehicle (ROV). It is approximately neutrally buoyant, Kevlar braid reinforced cable, in an polyurethane or TPR jacket.
Components: 4 optical 62,5/125 glass fibres assembled in cable with Kevlar fibres, 2 copper conductors 1mm sqr, Mylar/ aluminium foil screen with drain wire, Kevlar braid, 2mm polyurethane jacket
Diameter: 13,6 mm
Buoyancy: Neutrally buoyant in sea water
Length: 500m (standard, other lengths optional)
Min bending radius (dynamic): 200mm
Working strength: 200N
Breaking strength: 7000N
Terminations: The umbilical cable is terminated with a high voltage electrical connector and a single, four way, expanded beam optical connector at vehicle end. At the surface optical fibres are terminated with industry standard ST connectors.
Umbilical cable winch
Umbilical cable winch is used for the umbilical cable storage and dispense according to requirements. Powered version is offered as standard and gives controlled force tensioning capability of umbilical cable and cable length count. The cable drum is powered by vector controlled AC motor and dedicated frequency inverter. In speed control mode the winch operation is controlled by means of single axis proportional joystick. Umbilical pay off length and tension force are displayed on control box and pilot's console.
The winch is equipped with an electrical, 4 way slip ring. To allow low loss transmission of optical signals cable rewind method is utilized. Optical cable rewind mechanism is mounted inside the umbilical cable drum. It consists of two small cable drums and roll on ratchet powered bailing arm.
Cable length capacity: 500m (other lengths optional)
Number of conductors: 3 power + screen
Number of optical fibres: 4
Dimensions:
Length/ Width/ Height: 1200mm/1100mm/1200mm
Mass: (cable excluded): 150kg
Input power: 380 VAC/50Hz, three phase, 3 kW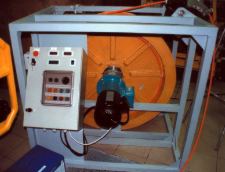 GDANSK UNIVERSITY of TECHNOLOGY, FACULTY OF OCEAN ENGINEERING & SHIP TECHNOLOGY,
DEPARTMENT of SHIP DESIGN and SUBSEA ROBOTICS
80-233 Gdańsk, ul.Narutowicza 11/12, Poland
ph. (48 58) 347 19 91, fax: (+48 58) 347 26 99, e-mali: sek8oce@pg.gda.pl